From 2020, there are 3 Types of Logo for overseas Thai restaurant: "Thai SELECT Signature" , "Thai SELECT Classic", and introducing new category  called "Thai SELECT Casual."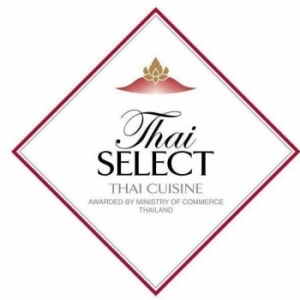 Qualifications for applying the "Thai SELECT" Logo. (See more details in the Application Form)
To be eligible for certification, restaurants must meet the following criteria:
Restaurant must have been in operation at least six months prior to the date of application.
At least 60 percent of dishes offered on the menu must be authentic Thai cuisine and the cooking methods must be the same or very similar to those in Thailand.
Head chefs may be either Thai or other nationalities. In case of non-Thai Head Chefs, the chefs must produce proof of at least a 2-year experience in cooking Thai foods or possess a Thai cuisine training certificate from an accredited institution.
Required Documents
Copy of Certificate of Business Registration 
Copy of Certificate of Food Hygiene 
Copy of menu with photographs of at least three recommended dishes 
Copy of raw material purchasing order (last three months) 
Copy of Thai cuisine training certificate (if applicable) 
Restaurant's exterior photographs showing restaurant name 
Restaurant's interior photographs 
Optional documents
Map of restaurant location
Copy of award certificate (if any)
PR/Marketing Promotion Plan (if any)
Copy of advertising/promotional materials/website (if any)
In case of renewal, please attach the copy of previous Thai Select certificate.
Application form must be completed and attached the required documents for submitting to the nearest Thai Trade Center (The Office of Commercial Affairs) of the Dartment of International Trade Promotion (DITP).
Thai Trade Center or representative from Thai Government agencies will visit the applicant's restaurant without prior notification and nominate applcant's restaurant for approval and award Thai SELECT Certificate in the appropriate category. Notify and send the Certificate to the applicant.
The Office of Commercial Affairs, Mowcow. (moscow@thaitrade.ru)