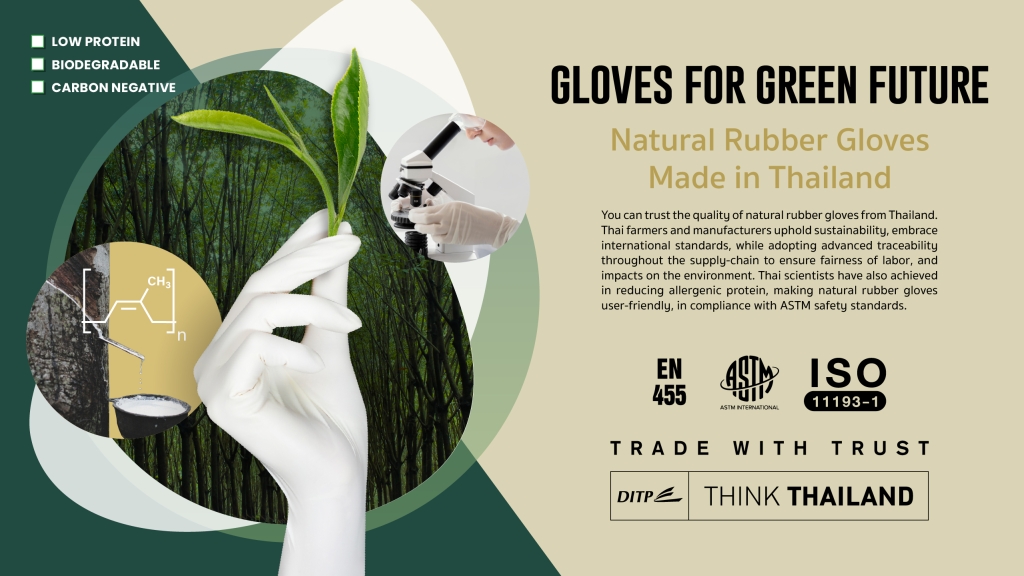 Natural Rubber Gloves Made in Thailand
Nowaday, consumers worldwide are using nearly four hundred billion pairs of rubber gloves per year, an unseen surge of waste has begun taking its toll on our environment. Sustainability is no longer just a choice, but a necessity.
The natural rubber gloves not only reduce waste but also are less toxic. Rubber tree plantations absorb tons of carbon dioxide per acre in a year, reducing a large amount of carbon footprint. As economies worldwide strive to reach net-zero emissions, negative carbon in rubber plantations presents an opportunity for the greener and brighter future.
Thailand is the world's leading producer and exporter of natural rubber gloves. Our farmers and manufacturers uphold sustainability, embrace international standards, while adopting advanced traceability throughout the supply-chain to ensure fairness of labor, and impacts on the environment.
With supports from the government, Thailand has pushed forward innovations to improve product qualities. The scientists have achieved a remarkable breakthrough by reducing allergenic protein. As a result, Thailand can produce low-protein natural rubber gloves, in compliance with ASTM safety standards.
The commitment to the green future is reflected in the distinguished quality of our natural rubber gloves, the tangible difference you can feel.
For more information about natural rubber gloves made in Thailand, please contact industrialproduct.ditp@gmail.com.